1C solutions were added to RAMAX Group portfolio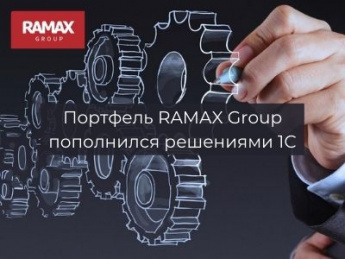 Now RAMAX Group is going to use its expertise in back office processes when working with the Russian vendor's systems.
In the context of import substitution and the growth of demand for domestic products, more major companies are taking interest in Russian information systems. However, many integrators are incapable of meeting the demand because their expertise in managing massive 1C projects is not comprehensive enough. At the same time, smaller service integrators having the experience of integrating this vendor's products in small and medium enterproses, have never done it for bigger enterprises. In addition, they cannot provide enough own resources for implementing such projects.
The successful experience of working with SAP systems for over 10 years of partnership has provided the RAMAX Group's expert team with massive expertise in project management, supply chain, customer relationships, personnel. financial management, project planning and other ERP activities which we plan to extrapolate to the 1C market.
Upon expanding its portfolio with 1C services, RAMAX Group will be able both to continue cooperation with large customers migrating to domestic software and attract new customers, for example, state-owned companies where current difficulties are further exacerbated by the high error price.
"In some industries (for example, in transportation) we have unique expertise in the key directions of automation and digital business transformation," says
Umar Udaev, head of 1C practice at RAMAX Group
. "Previously, major companies setting a course for import substitution just could not find anyone but small integrators. Dealing with 1C franchisees was fraught with losses, as they do not have any experience in working with businesses of such scale, while own developments is very resource-demanding, particularly in terms of time. Since it is very difficult to find an integrator on the market who can fully satisfy bigger customers' needs, banks, metallurgy, the oil industry and companies from other sectors cannot improve the quality of their business by digitizing internal processes. That is why our initiative to expand our portfolio with 1C services is a reasonable response to acute market challenges".
Currently, RAMAX Group is busy extending its list of Russian technological partners and attracting skilled staff to meet the massive challenges in import substitution.