RAMAX Group won the status of official partner of Swiss Aviation Software Ltd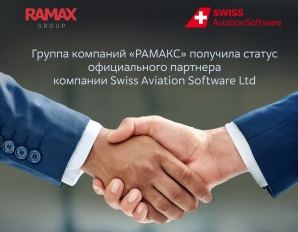 Moscow, February 25, 2019 – RAMAX Group is now an official partner of Swiss Aviation Software Ltd. (Swiss-AS), developer of AMOS, the world's most popular system for MRO management. This is the first case ever that Swiss-AS has established partnership with a Russian company.
AMOS is a comprehensive and fully integrated MRO software solution for the management of continuous airworthiness and maintenance of aircraft. The main characteristics that distinguish AMOS among other similar products are the high integration level and functional depth of the system combined with its user-friendliness. The AMOS functionality is sufficient for fulfilling requirements of airlines and MRO service providers of any type and size in such areas as aircraft maintenance, component maintenance, planning, storage management, planning of resources, and logistics. The solution also complies with current aviation standards.
The establishment of partnership between RAMAX Group and Swiss-AS is a recognition of RAMAX's expertise and high professional standards in aviation projects pertaining to AMOS. Having obtained the partner status, RAMAX Group has confirmed its ability to support current and future customers in aviation industry on a competitive marketplace. RAMAX Group has shown its readiness to perform a variety of tasks related to implementation and operation of AMOS.
The RAMAX's project for implementation of AMOS at PJSC Aeroflot was recognized the Project of the Year in the area of technical maintenance for transport and won the prestigious Global CIO award. The main goal in implementing the AMOS project was to ensure successful performance of all aircraft technical maintenance and continuous airworthiness processes within a unified system (AMOS) and smooth integration of AMOS with SAP, the Aeroflot's ERP system. The solution architecture allows PJSC Aeroflot to scale the system in order to serve the growing aircraft fleet and use advantages of deep integration with other IT systems such as SABRE, SAP ERP, and Nadezhnost'.
At the concluding stages of the project, comprehensive user acceptance tests have been performed combined with several iterations of data migration based on stringent qualitative and quantitative criteria and were recognized as fulfilled; this result enabled AMOS go-live at PJSC Aeroflot.
Owing to AMOS implementation, the efficiency in the affected structural units increased by 4%.
Owing to AMOS functionalities in the management of material resources and planning, integration of AMOS and SAP, and high quality of data as a result of their careful migration, the efficiency of planning and monitoring of material flows increased by 3-4%, which is equivalent of 130-175 million rubles.
As one of the major Russian providers of IT services, RAMAX has vast expertise in implementing software solutions for civil aviation. The accreditation as a Swiss-AS partner opens for RAMAX new opportunities for providing support to new and future AMOS customers in Russia and CIS countries together with Swiss-AS.
Implementation of AMOS at Russian airlines will enable them to reduce expenses on MRO services owing to optimization of storage and procurement, planning of maintenance, and integration of AMOS with the other airline's systems to optimize business processes.
RAMAX Group is a technology consortium that has unique competence in such areas as boosting the efficiency of business processes, development and modernization of corporate portals, information security, business analytics, Big Data, deployment and maintenance of software solutions offered by SAP, IBM, Cisco, Microsoft, Celonis, Inform, and Lufthansa Systems. Among the main customers of RAMAX Group there are such companies as Aeroflot, VGTB24, Post of Russia, MegaFon, Rossiya airline, Avtodor Group, Miratorg, and a number of other major Russian companies. RAMAX's offices are located in Moscow and St. Petersburg.